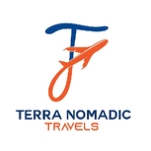 TERRA NOMADIC TRAVELS IS LICENSED TRAVEL COMPANY IN MOROCCO.
(Official Moroccan Government Decision Nr. 33D/21, R.C. 2957, Insurance nr. 04255203500025
Private Moroccan tours, Marrakech day trips and activities, Sahara tours and camel ride , Atlas mountains trekking , Marrakech tour packages with Morocco 4 Travels and Terra Nomadic Travels.









2023 Morocco 4 Travels - Terra Nomadic Travels SARL © (Official Moroccan Government Decision Nr. 33D/21, R.C. 2957, Insurance nr. 04255203500025 Web design by Gomarnad
Morocco 4 Travels and Terra Nomadic Travels is same company , officially licensed by Moroccan Ministry of Transport.
Your private tours from Marrakech includes comfortable private transfer.
Our team of smartest tour guides and drivers brings creativity, amusement, quality and open mindedness to the local Morocco tours in order to show the in-and-out of Sahara desert and best destinations in Morocco.
Phone reservation / Price quotes: +212 661136292
WhatsApp: +212 661136292

We explore the Berber villages of the High Atlas Mountains on a this private 2 day Toubkal trek from Marrakech. Enjoy amazing landscapes , we explore desert in Merzouga in adventure 3 days travel.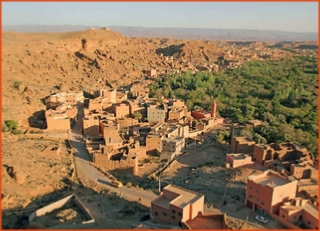 get a price quote
Private transfers, Toubkal all meals

Refuge and Imlil accommodations






DAY 1 : MARRAKECH - IMLIL - TOUBKAL :
Marrakech Atlas trek starting today , you will be picked up early in the morning at your hotel , then we pass small town Asni and we drive to Imlil, the central village for departures to Toubkal Trek. After introduction to the accompanying local support team we start our trek. First we comfortably walk through the fruit filled Mizane Ait Valley, using hidden mule tracks and our route takes us up to the high cliffs above the valley. Crossing the river we eventually come to the pastoral holy place of Sidi Chamharouch that attracts many pilgrims during the whole year. After short break our trail climbs steadily on the snaking and winding road to the Refuge of Toubkal (3206m), our accommodation for the night.
DAY 2 : REFUGE TOUBKAL - SUMMIT - REFUGE TOUBKAL - IMLIL:
Today we start early in the morning to reach the summit of Jebel Toubkal , the highest peak in North Africa . Our route takes us up the south circuit, crossing the stream above the refuge. The walk is relatively easy, however off you are not used to the altitude, the walking can be quite slow. jHowever the views along the way are worth the effort! Once we reach the summit there are breathtaking views in every direction open to us - from the Marrakesh Plain to the High Atlas in the north and as far south as the Anti Atlas and the Sahara. After enjoying this special moment and taking pictures we return down to Refuge Toubkal and head back towards Imlil. We spend a night in Imlil.
DAY 3 : IMLIL - AIT BENHADDOU - DADES GORGES :
The Merzouga desert trip starts from your hotel, we drive toward Ouarzazate visiting the Ait Ben Haddou Kasbah. After lunch we continue driving to Ouarzazate and we will drive along the road of thousand Kasbahs. We visit beautiful Oasis of Skoura, we will make a short stop at Valley of the roses to discover how the local people make the perfumes. We will explore Dades Valley where we stay at local hotel nearby the gorges. .
DAY 4 : DADES GORGES -TODRA VALLEY - RISSANI - MERZOUAG DESERT CAMEL RIDE :
Today our 5 days combined Atlas and Merzouga tour continues in the morning we drive to Toudra Gorge , then Rissani and Merzouga the gate to the dunes. We prepare for camel ride for 2 hours till we reach Sahara camp. Enjoy desert sunset then, we enjoy dinner and the nomads will play the drums around the fire , we sleep under the nomads tents .
DAY 5 : MERZOUGA SUNRISE CAMEL TRIP - AGDZ - MARRAKECH:
Today in the morning we will wake you early to watch sunrise in Sahara ,after that we ride camels back to the hotel for the breakfast and we drive all the way back to Marrakech via Agdz and Ouarzazate.
Thank you for exploring our country with "Morocco 4 Travels" as trusted travel & trek company for private Marrakech combined trip to Toubkal and desert tour. Contact us for price quote or customize our treks for unique Atlas experience.
IMPORTANT INFO FOR YOUR SELECTED ATLAS TREK FROM MARRAKECH:
If you require customized Atlas mountain hike itinerary please contact us by email or phone. To calculate best price for your required tour let us know number of people travelling with you. Thank you.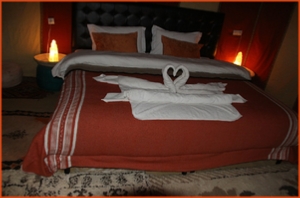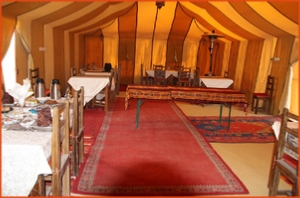 Camel ride in desert Erg Chebbi